Folding arm awnings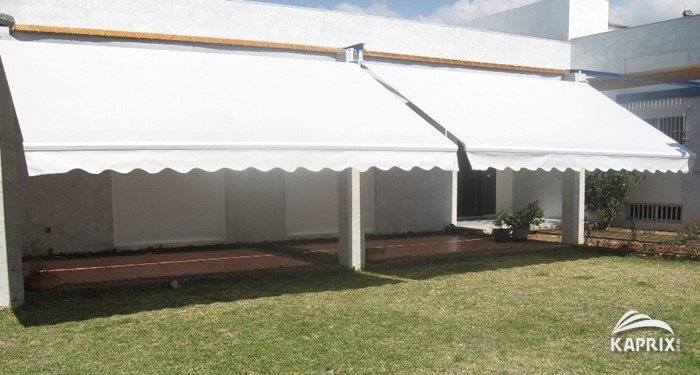 Improvement of house design using Retractable Awnings
A retractable awning is a material specially designed to block rain or the sun without having to interfere with any existing structure or having to pit up extra poles. They mount directly to the house and extend all over to the attached patio. They are mainly grouped into two:
Electric powered Retractable Awnings
These retractable awnings are wireless and operate by use of a remote. They also have a wind sensor. They are preferred where there is frequent covering or uncovering of a garden or home.
Manual Retractable Awnings
These awnings are adjusted by use of hands. If you prefer a stationary shading, then this is the most preferred.
Advantages of Retractable Awnings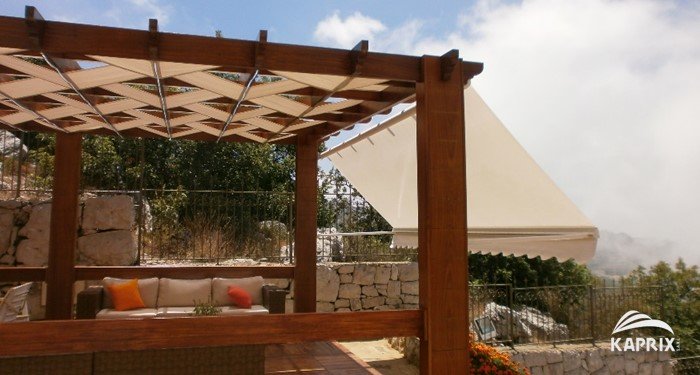 They protect you from light showers, the sun and also direct ultra violet rays.
They protect the furniture and carpet from direct interference by excess heat.
They are very affordable.
They are available in a wide variety of sizes and styles.
They also play a major role in creating outdoor enjoyment.
The awnings can also be used in the backyard in case you want to grow flowers as a hobby as they will definitely not require so much sun radiations. They are also used in large balconies where you may have placed a set of furniture and a table and you would like to enjoy the nature without any weather interference. There are also window awnings which add the architectural aesthetic of your house and also help in controlling room temperature and protect interior from sun damage.
Kaprix has taken the next step and has come up with various well-tailored, stylish and well designed retractable awnings that suit any place you want to place them. The backyard retractable awnings by Kaprix are stylish, made of high-quality durable textures that will last you for long and control the rays entering the setting, not preventing all amount of sunlight but letting in the right amount of sunlight to keep you and the people enjoying the environment a humble quality time. The retractable awnings from Kaprix also help you take care of fragile plants that you would want to grow and take care of them without many challenges. They are also environmentally friendly and will not interfere with the vegetation beneath it. The retractable awnings are available in quite a number of colors and you can also have labels specifically designed.
Kaprix also have high quality and durable window awnings. They are also environmentally friendly, easy to use and adjust. They are convenient to use in any building whether private or commercial. There are also business awnings available for restaurants, bars and other eateries. So if you are owning such a business and you need to protect an outside eating or drinking area, we have the solution for you. With this, the customers will also enjoy the place comfortably and even visit at any desired time.
With Kaprix products, be rest assured all your solar and rain problems are over and your house and part of the yard has a unique appearance.